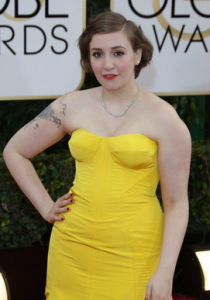 If you're a liberal, the highest form of existence boils down to being able to sleep with as many people as you want, as often as you want, and then being able to consistently find support for your promiscuity in the legislation created by government.
It's a life without responsibility, where your physical wants and your needs come first.
And one actress is taking to social media to make sure that everyone has unfettered access to all the abortion and birth control you could ever need.
Lena Dunham, popular for her portrayal as herself in the show "Girls," really wants young voters to vote Democrat.
She's so adamant that Democrats need to win positions in office that she's targeted four candidates [Cory Gardner (CO), Thom Tillis (NC), Dan Sullivan (AK) and Joni Ernst (IA)] and derided their conservative politics in an email she sent to the Planned Parenthood Action Fund.
As she told supporters, "I vote [Democrat] because the number of backwards, out-of-touch, downright freaking unbelievably anti-women's health politicians out there right now makes my blood boil."
"The crazy and depressing truth is that there are people running for office right now who could actually affect your life. PARTICULARLY your sex life. PARTICULARLY if you're a woman."
Dunham is well known for her debased sense of humor and her affinity for making everything in her life relevant to sex.
It's the calling card of liberals, a life lived without consequence, and that's really what they hate about conservatives: they're trying to "take all the fun out of life."
No one would argue that sex isn't fun, but it comes with responsibility.
As you'll no doubt notice, Dunham has yet to stand up for the unborn children she and millions of liberals abort every year, but being a hypocrite is necessary when it comes to being a liberal, so that's to be expected.
As a way of saying thanks to conservatives across the nation, one of our partners is offering a FREE Survival Business Card.
All you need to do to claim your FREE Survival Business Card (Worth $15) is CLICK HERE.